Empyrean's Current Wine Offerings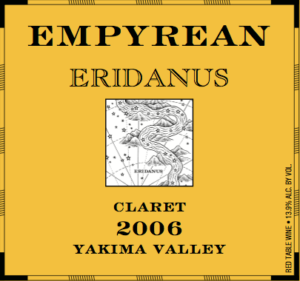 Eridanus Claret - 2006
A Bordeaux-style blend of Cabernet Sauvignon, Merlot and Cabernet Franc, with fruit from the Waluke Slope AVA and the Yakima Valley AVA. Eridanus is balanced and approachable, with masses dark fruits, cigar box, black plum and dark chocolate notes on the palate. Fine, soft tannins providing structure throughout. Drink Now.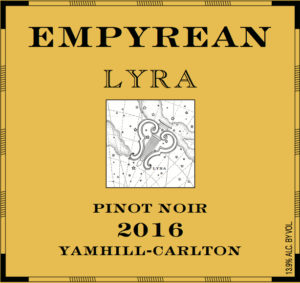 Lyra Pinot Noir
Now in its second vintage, this single-vineyard sourced Pinot Noir follows Empyrean's love of blending west, over the Cascades to Oregon. We believe Pinot Noir is  the varietal that most expresses itself through clonal selection, and this one offers Pommard, 777, 115 and Mt Eden in our blend. Lush, soft red fruits on the palate, with a silky natural tannin structure running throughout, and a  deep, lingering finish. Drink now, or cellar up to seven years.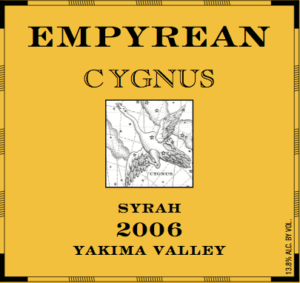 Cygnus Syrah 2006
Another single-vineyard sourced wine only now reaching its peak. Sourced from great vineyard just north of Walla Walla, WA, Cygnus syrah offers dark fruits, with candied black cherries, and hints of blond tobacco.  It offers fine, firm tannins, and exceptional balance. Drink now.
We offer four distinct red wines from vineyards chosen specifically for their ability to produce balanced fruit of the highest quality.
DRACO - named for the Dragon constellation, might be termed a "reserve" by other wineries. We see things a bit differently. Draco is the blend of all our barrels which we think offers the finest cellaring potential. Dragons of legend are long-lived, and we believe our Draco still has many years of peak drinking ahead of it as well.  We don't make a "Draco" every vintage.
ERIDANUS –is named for the "River of Stars" constellation and is our tribute to the fruitful and life-giving Yakima River Valley. Eridanus might well be considered a "reserve" quality wine at another winery. We see it as our more approachable blend, it, too, rewards long-cellaring.
CYGNUS –takes its name from the Swan constellation. Syrah grown to best advantage enjoys warm days and cold nights. Our Cygnus label represents our aim of producing a Syrah that is not only rich and bold, but elegant and graceful.
LYRA - takes its name from the Lyre constellation, as it is harmonious and an immediate pleasure.  Lyra is a new offering for Empyrean,  a pinot noir from Oregon's premiere Yamhill-Carlton AVA.  Like all Empyrean wines it is a blend, this time of four pinot noir clones. We made Lyra to drink now, with soft red fruits, restrained French oak, and balanced tannins.
Our Latest Project - "Lyra"
While producing an amazing run of demonstrably age-worthy Bordeaux-style blends in Washington's Yakima Valley, Empyrean wines has headed west, over the Cascades, to Oregon's premiere Yamhill-Carlton AVA. Its new project, Lyra pinot noir is a rare find at its price.

All Content Copyright 2017 - Empyrean Wines